Seasonal Rentals
Seagate Rentals has bay front, waterfront, water view, houses, apartments and other seasonal rentals available. All of our summer rental properties are located in Ocean City, Maryland. All of our apartments have air conditioning and are fully furnished. For each person on the lease, there will be a bed provided in a bedroom - no one is expected to live on a sleep sofa. We also try to utilize bunk beds to maximize the amount of floor space in the bedrooms. All but a few of our apartment rentals have either laundry facilities at the building or in the apartment. Our houses all have a washer and dryer in the house. We have a security service contracted to help maintain a safe environment for our tenants and a friendly environment with our neighbors. Our lease period for the summer is May 15th through September 16th, with conditions in the lease for early occupancy. Occupancies are suggested, not maximums. For pricing, please view our Rental Rates or Contact Us.
223A Trimper Avenue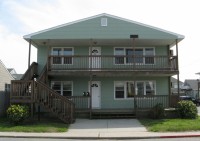 Unit #1

Bedrooms: 3
Bathrooms: 2, One bath with full tub/shower. one bath with shower
Laundry Facilities: Washer and dryer in the apartment
Suggested Occupancy: 9
A/C: Yes
W/D: Yes
Waterview: Waterview
Summer Seasonal Rental Information
Please print and review the following policies for submitting and signing a summer seasonal lease agreement with Seagate Rentals

Please note, this contract is subject to change at any time, and while all attempts are made to keep this version as accurate as possible, there may be some delay between when the contract is updated and when it is available for download. If you have any questions, please contact the management.