Weekly Rentals
Bookings can be made through Judy Jameson
at Coldwell Banker Vacations at
judyjameson@cbmove.com
or 410-520-4507.
Senior week rentals must be booked directly through Seagate Rentals. Contact Wendy at 410-629-1570,
seagaterentals@comcast.net
.
Bahia Sunset - 3601 Canal Street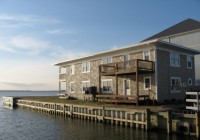 Rates and Availability
3601 Canal Street
Located at 36th St. the building is ideally located for access to all of Ocean City's famous attractions. Fill your days and nights with Ocean City's famous beach, boardwalk, shopping, restaurants and nightlife. Ocean City also offers jet-skiing, boating, bay and offshore fishing, para-sailing, and the Jolly Roger water and amusement parks. Numerous golf courses are minutes away as is Assateague Island National Seashore. Enjoy shopping at the Ocean City Factory Outlets, the Gold Coast Mall and locally famous retailers such as K-Coast, Chauncey's, Endless Summer, South Moon Under, Quiet Storm, Coconut Kids and the Shade Shack. You can satisfy your appetites with Thrasher's Fries, the Dough Roller and the local favorites - Seacrets, BJ's, Fager's Island, Macky's, the Greene Turtle, Buxy's Salty Dog Saloon and Coconuts Beach Grill in the Castle in the Sand Hotel just across the street.
Or you may just want to enjoy the bay from your deck. Book your stay and decide on your activity level later.
The Bahia Sunset has been completely renovated, and we have added a beach area on the bayfront. There are new kitchens, bathrooms, interiors, furniture, carpeting and windows. This is a fantastic location for families, with enough room to spend quality time together without being crowded and easy crossing to the beach and ocean.
Unit #1

Bedrooms: 2
Bathrooms: 2
Suggested Occupancy: 8

April 27, 2018 –
May 4, 2018

$725

May 4, 2018 –
May 11, 2018

$725

May 11, 2018 –
May 18, 2018

$725

May 18, 2018 –
May 25, 2018

$800

May 25, 2018 –
June 1, 2018

$925

June 2, 2018 –
June 9, 2018

Rented

June 9, 2018 –
June 16, 2018

$2,000/Senior Week

June 16, 2018 –
June 22, 2018

$2,000/Senior Week

June 22, 2018 –
June 29, 2018

$1,350

June 29, 2018 –
July 6, 2018

$1,475

July 6, 2018 –
July 13, 2018

$1,400

July 13, 2018 –
July 20, 2018

$1,400

July 20, 2018 –
July 27, 2018

$1,400

July 27, 2018 –
August 3, 2018

$1,400

August 3, 2018 –
August 10, 2018

$1,400

August 10, 2018 –
August 17, 2018

$1150

August 17, 2018 –
August 24, 2018

$1000

August 24, 2018 –
August 31, 2018

$775

August 31, 2018 –
September 7, 2018

$775

September 7, 2018 –
September 14, 2018

$725

September 14, 2018 –
September 21, 2018

$725

September 21, 2018 –
September 28, 2018

$725

October 4, 2018 –
October 7, 2018

$375

Unit #2

Bedrooms: 2
Bathrooms: 2
Suggested Occupancy: 8

April 27, 2018 –
May 4, 2018

$725

May 4, 2018 –
May 11, 2018

$725

May 11, 2018 –
May 18, 2018

$725

May 18, 2018 –
May 25, 2018

$800

May 25, 2018 –
June 1, 2018

$925

June 2, 2018 –
June 9, 2018

$2,000/Senior Week

June 9, 2018 –
June 16, 2018

$2,000/Senior Week

June 16, 2018 –
June 22, 2018

$2,000/Senior Week

June 22, 2018 –
June 29, 2018

$1,350

June 29, 2018 –
July 6, 2018

$1,475

July 6, 2018 –
July 13, 2018

$1,400

July 13, 2018 –
July 20, 2018

$1,400

July 20, 2018 –
July 27, 2018

$1,400

July 27, 2018 –
August 3, 2018

$1,400

August 3, 2018 –
August 10, 2018

$1,400

August 10, 2018 –
August 17, 2018

$1150

August 17, 2018 –
August 24, 2018

$1000

August 24, 2018 –
August 31, 2018

$775

August 31, 2018 –
September 7, 2018

$775

September 7, 2018 –
September 14, 2018

$725

September 14, 2018 –
September 21, 2018

$725

September 21, 2018 –
September 28, 2018

$725

October 4, 2018 –
October 7, 2018

$375

Unit #3

Bedrooms: 1
Bathrooms: 1
Suggested Occupancy: 3

April 29, 2018 –
May 6, 2018

$470

May 6, 2018 –
May 13, 2018

$485

May 13, 2018 –
May 20, 2018

$515

May 20, 2018 –
May 27, 2018

$590

May 27, 2018 –
May 31, 2018

$325

June 2, 2018 –
June 9, 2018

$1,000/Senior Week

June 9, 2018 –
June 16, 2018

$1,000/Senior Week

June 16, 2018 –
June 22, 2018

$1,000/Senior Week

June 24, 2018 –
July 1, 2018

$850

July 1, 2018 –
July 8, 2018

$975

July 8, 2018 –
July 15, 2018

$900

July 15, 2018 –
July 22, 2018

$900

July 22, 2018 –
July 29, 2018

$900

July 29, 2018 –
August 5, 2018

$900

August 5, 2018 –
August 12, 2018

$900

August 12, 2018 –
August 19, 2018

$700

August 19, 2018 –
August 27, 2017

$625

August 26, 2018 –
September 2, 2018

$600

September 2, 2018 –
September 9, 2018

$500

September 9, 2018 –
September 16, 2018

$500

September 16, 2018 –
September 23, 2018

$500

September 23, 2018 –
September 30, 2018

$500

October 4, 2018 –
October 7, 2018

$225

Unit #4

Bedrooms: 2
Bathrooms: 1
Suggested Occupancy: 8

April 27, 2018 –
May 4, 2018

$725

May 4, 2018 –
May 11, 2018

$725

May 11, 2018 –
May 18, 2018

$725

May 18, 2018 –
May 25, 2018

$800

May 25, 2018 –
June 1, 2018

$925

June 2, 2018 –
June 9, 2018

$2,000/Senior Week

June 9, 2018 –
June 16, 2018

$2,000/Senior Week

June 16, 2018 –
June 22, 2018

$2,000/Senior Week

June 22, 2018 –
June 29, 2018

$1,350

June 29, 2018 –
July 6, 2018

$1,475

July 6, 2018 –
July 13, 2018

$1,400

July 13, 2018 –
July 20, 2018

$1,400

July 20, 2018 –
July 27, 2018

$1,400

July 27, 2018 –
August 3, 2018

$1,400

August 3, 2018 –
August 10, 2018

$1,400

August 10, 2018 –
August 17, 2018

$1150

August 17, 2018 –
August 24, 2018

$1000

August 24, 2018 –
August 31, 2018

$775

August 31, 2018 –
September 7, 2018

$775

September 7, 2018 –
September 14, 2018

$725

September 14, 2018 –
September 21, 2018

$725

September 14, 2018 –
September 21, 2018

$725

September 21, 2018 –
September 28, 2018

$725

October 4, 2018 –
October 7, 2018

$375

Unit #5

Bedrooms: 2
Bathrooms: 1
Suggested Occupancy: 8

April 27, 2018 –
May 4, 2018

$725

May 4, 2018 –
May 11, 2018

$725

May 11, 2018 –
May 18, 2018

$725

May 18, 2018 –
May 25, 2018

$800

May 25, 2018 –
June 1, 2018

$925

June 2, 2018 –
June 9, 2018

$2,000/Senior Week

June 9, 2018 –
September 15, 2018

$2,00/Senior Week

June 16, 2018 –
June 22, 2018

$2,000/Senior Week

June 22, 2018 –
June 29, 2018

$1,350

June 29, 2018 –
July 6, 2018

$1,475

July 6, 2018 –
July 13, 2018

$1,400

July 13, 2018 –
July 20, 2018

$1,400

July 20, 2018 –
July 27, 2018

$1,400

July 27, 2018 –
August 4, 2018

$1,400

August 3, 2018 –
August 10, 2018

$1,400

August 10, 2018 –
August 17, 2018

$1150

August 17, 2018 –
August 24, 2018

$1000

August 24, 2018 –
August 31, 2018

$775

August 31, 2018 –
September 7, 2018

$775

September 7, 2018 –
September 14, 2018

$725

September 14, 2018 –
September 21, 2018

$725

September 21, 2018 –
September 28, 2018

$725

September 28, 2018 –
October 5, 2018

$725

Unit #6

Bedrooms: 1
Bathrooms: 1
Suggested Occupancy: 3

April 29, 2018 –
May 6, 2018

$470

May 6, 2018 –
May 13, 2018

$485

May 13, 2018 –
May 20, 2018

$515

May 20, 2018 –
May 27, 2018

$585

May 27, 2018 –
May 31, 2018

$325

June 2, 2018 –
June 9, 2018

$1,000/Senior Week

June 9, 2018 –
June 16, 2018

$1,000/Senior Week

June 16, 2018 –
June 22, 2018

$1,000/Senior Week

June 24, 2018 –
July 1, 2018

$850

July 1, 2018 –
July 8, 2018

$975

July 8, 2018 –
July 15, 2018

$900

July 15, 2018 –
July 22, 2018

$900

July 22, 2018 –
July 29, 2018

$900

July 29, 2018 –
August 5, 2018

$900

August 5, 2018 –
August 12, 2018

$900

August 12, 2018 –
August 19, 2018

$700

August 19, 2018 –
August 26, 2018

$625

August 26, 2018 –
September 2, 2018

$600

September 2, 2018 –
September 9, 2018

$500

September 9, 2018 –
September 16, 2018

$500

September 16, 2018 –
September 23, 2018

$500

September 23, 2018 –
September 30, 2018

$500

October 4, 2018 –
October 7, 2018

$225
Rates and Availability